MobileNAV - Universal ERP mobility
Complex mobile solution for Microsoft Dynamics 365 Businss Central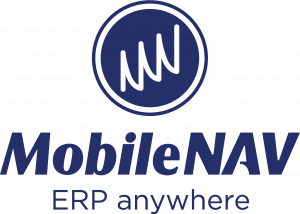 MobileNAV integrates all your Microsoft Dynamics 365 NAV/ Busines Central functionality with your mobile devices
MobileNAV is a comprehensive mobile application, which can supports several business processes like field service, field sales, warehouse management, production, etc.
Automatic offline/online mode
You can choose between offline, online, and auto online/offline mode to keep up your work even if you lose your internet connection.
Tailored to your business needs
MobileNAV is deeply customizable to ensure it always fits your business needs.
Reach all your NAV/BC functionality
You can use all of your NAV/BC functionality even if you are using a mobile device.
Use your available devices
MobileNAV is available for a wide range of devices. That includes mobile phones, tablets, and industry specific scanners with Android, Windows and iOS operation system.
Secure communication protocol
MobileNAV provides a secure connection for communication using NTLM and SSL protocols.
MobileNAV's functionality is based on your ERP features. It means that you can use all the features your system has, complemented by plenty of your ERP system and industry-specific features we added to the application, like barcode scanning, RFID scanning, signature capture, GPS tracking, etc.
MobileNAV functionality based on usage
Automatic offline/online mode
Customer and contact management
Phone book integration with Microsoft Dynamics NAV / Business Central
Sales support activities
Configurable report functions
Direct label printing and scanning
Map integration and GPS tracking
Contact management
Direct label printing
Transfer order management
Item management
Bin content
Automatic offline/online mode
Documenting warehouse movements
Always up to date stock information
 Smart scanning
Barcode/QR code/Rfid reading capability
Item management
Map integration and GPS tracking
Customer and contact management
Direct image upload
Automatic offline/online mode
Order and contract management
Captures information from the service, including data, images, and signature
Paperless service worksheet on mobile device
Direct label printing and scanning
Signature capture

Every Microsoft Dynamics NAV version newer than NAV 2009
&
All Business Central version
Operation system compatibility